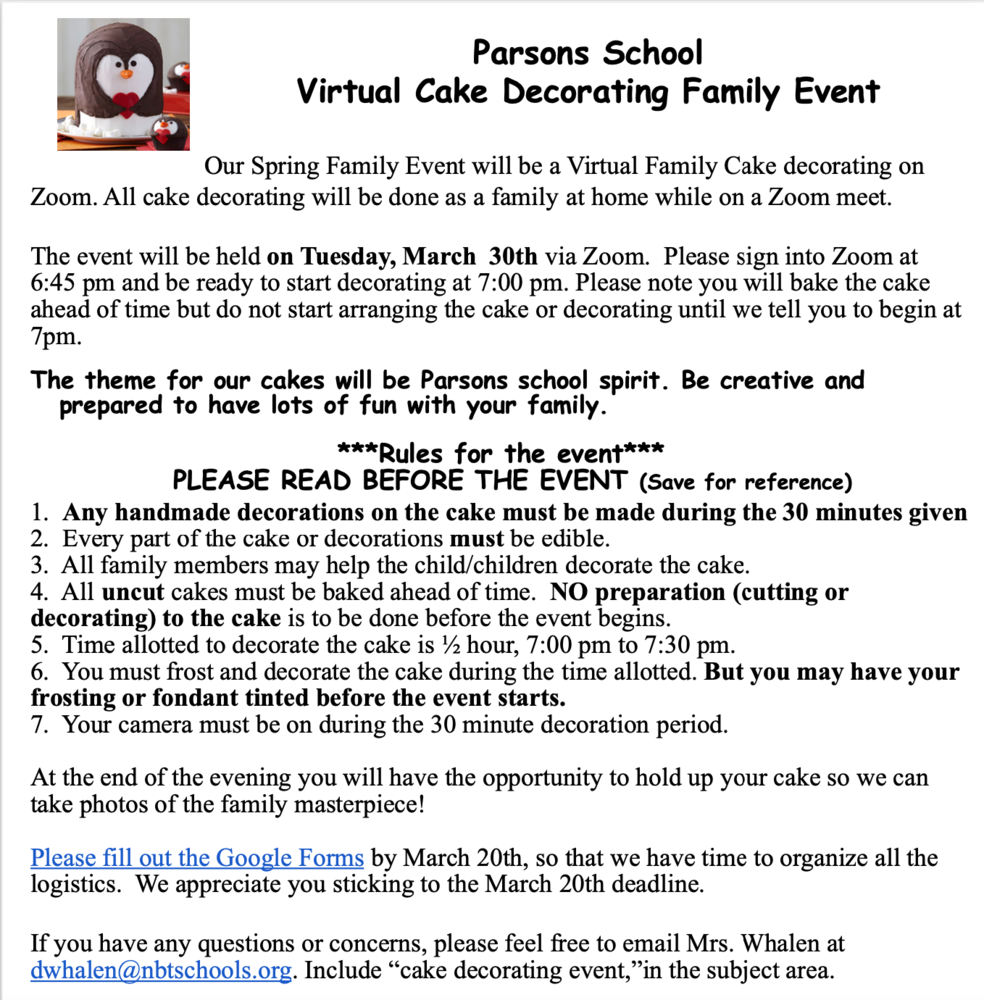 Virtual Cake Decorating Family Event
Parsons School
Monday, March 15, 2021
Our Spring Family Event will be a Virtual Family Cake decorating on Zoom. All cake decorating will be done as a family at home while on a Zoom meet.
The event will be held on Tuesday, March 30th via Zoom. Please sign into Zoom at 6:45 pm and be ready to start decorating at 7:00 pm. Please note you will bake the cake ahead of time but do not start arranging the cake or decorating until we tell you to begin at 7pm.
The theme for our cakes will be Parsons school spirit. Be creative and prepared to have lots of fun with your family.
***Rules for the event*** PLEASE READ BEFORE THE EVENT (Save for reference)
1. Any handmade decorations on the cake must be made during the 30 minutes given 2. Every part of the cake or decorations must be edible. 3. All family members may help the child/children decorate the cake. 4. All uncut cakes must be baked ahead of time. NO preparation (cutting or decorating) to the cake is to be done before the event begins.
5. Time allotted to decorate the cake is 1⁄2 hour, 7:00 pm to 7:30 pm. 6. You must frost and decorate the cake during the time allotted. But you may have your frosting or fondant tinted before the event starts. 7. Your camera must be on during the 30 minute decoration period.
At the end of the evening you will have the opportunity to hold up your cake so we can take photos of the family masterpiece!
Please fill out the Google Form by March 20th, so that we have time to organize all the logistics. We appreciate you sticking to the March 20th deadline.
If you have any questions or concerns, please feel free to email Mrs. Whalen at dwhalen@nbtschools.org. Include "cake decorating event,"in the subject area.